Best Casinos No Verification Needed
NO VERIFICATION CASINOS
If you are playing at an Online Casino you are already familiar with the verification process. If not verification process is a process that Online Casinos usually demand just prior to your withdrawal request. They are demanding sort of documents prior to your withdrawal in order to verify your identity and residency. Supposedly all of this hassle is to fulfill (KYC: Know Your Customer ) requirement although interestingly they are demanding just before your withdrawal process. If their intention was sincere shouldn't they demand all this paperwork before your first deposit? Here the scheme beloved explains the process visually.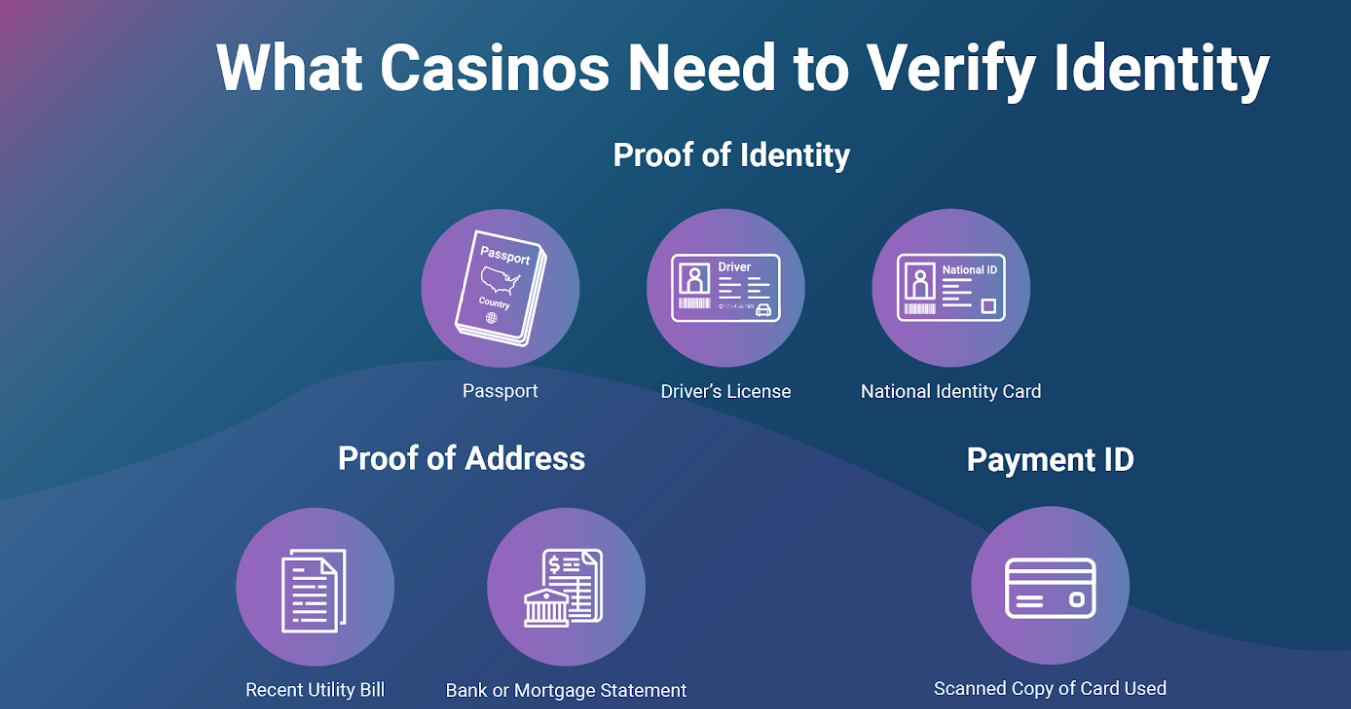 Yes, an average Online Casino demands all these documents above in order to process your withdrawal. It seems easy but it can be really tricky since once missing a document or a mistake can cause you to be waiting for your withdrawal for weeks. Meanwhile, you might wish to play again, place a bet and you might actually lose the amount you are intended to withdraw. Which this is really a heartbreaking situation for a player.WHAT IS EXACTLY VERIFICATION PROCESS AT ONLINE CASINOS?
For newbies, it might be surprising. You sign up with a new online casino in a few simple steps, claim that juicy bonus, make your first deposit and start playing. Then, let's assume that you win real money and request a withdrawal. You are then asked to submit a copy of your ID, bank statement, and/or utility bills.
Account verification is simply a way for your online casino to check that you are the person that you say you are. In order to complete this process, an online casino may demand many documents like ID Card, Passport, Driving Licence, and also proof of your address including your utility bills, residence card and etc.
Standard Proof of Identity documents may include:
-Passport
-Valid Driver's License
-EEA Member State Identity Card
-National Identity Card
-PAN Card
-Voter's Identity Card
-Bank Pass Book (if it has a photograph)
-Employee identity card (only for listed or public sector companies)
-University ID card
-Birth Certificate (although users normally need to submit a photo of themselves holding the certificate, along with another form of ID)
-Standard Proof of Address documents may include:
-Utility Bill
-Council Tax Bill
-Bank Statement
-HM Revenue and Customs Self-Assessment Statement
-House or Car Insurance Certificate
-House Deed
-Lease Agreement with 3 months' worth of rent receipts.
Yes, you heard right! All these documents or at least 2-3 of them casinos demand from players just before their withdrawal. A small mistake can cause weeks of hassle and headache. The account verification process is sometimes required by the licensing authority or can also be a company's policy. The funny part is they do demand these documents even though you are playing with Cryptocurrency which takes all the anonymity of the player and literally misses to point of a Cryptocurrency payment.
Furthermore, you might also not willing to give that much detail and data about yourself to a company. Which today many players choose to play at trustworthy no-verification casinos just due to these particular privacy concerns. Also waiting for a withdrawal couple of weeks is not an ideal situation for many players too.  Therefore today we will define and example another type of Online Casinos.
WHAT DOES NO VERIFICATION CASINO MEAN?
No Verification Online Casinos do not demand any kind of documents from their clients. Normally a No Verification Casino is a casino to which you do not need to send any documents including your ID card, passport, utility bills, bank statements and etc. They do care about players' privacy. Also if you are familiar with Online Casinos you should know a bit about e-wallets. If not e-wallets such as like Ecopayz, Skrill, Neteller, and many others are usually the primary ways for players to make their deposits and take their withdrawals from Online Casinos. In order to open and verify your account in these e-wallets, you will already need to send those documents to these e-wallets since they are respected institutions of the UK or European Union.  So Online Casinos demanding verification process is literally useless. Of course, Online Casinos licensed inside European Union have to demand those documents and implement a verification process since the law abides them to do so. Although some Online Casinos do want it even though their license does not require it. These Online Casinos are mostly doing a shady business practices. They are preying on your gambling instincts. They are demanding these documents and verification process they withhold your withdrawal for a week or two and they are expecting you to play meanwhile and your withdrawal process will be delayed or canceled at the end. I strongly suggest that make your research so well if your Online Casino demands your personal documents even though their license does not demand it.
Another funny thing is some Online Casinos that particularly operate via Cryptocurrency demand those documents even though their license does not require it!  Which is against the nature of both Cryptocurrency and the No Verification Casinos.
You can deposit and start playing immediately and you do not need to worry about any verification process when it comes to withdrawing your winnings. You will just place a withdrawal request with the method you desire and then your money will arrive for you in just minutes!
Most of the players are having a hard time finding trustworthy No Verification Online Casinos. That is the main reason we are creating this website. In order to give you the best No Verification Casino suggestions. We will rate them according to the level of trust they do provide for their clients. We will bring up the fairest and the most gambler-friendly  No Verification Casinos to the players.